About / Bio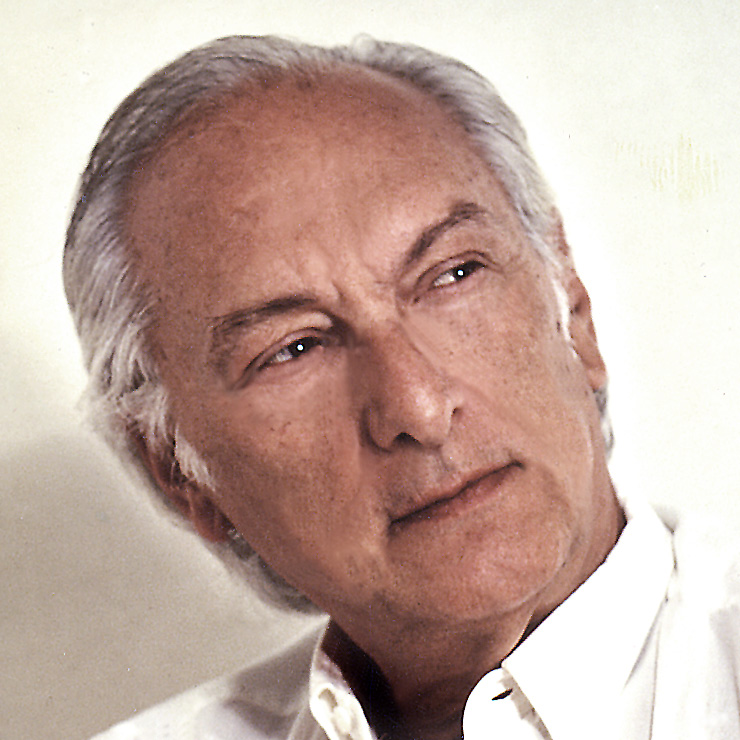 Carlos Perez Franco
Uruguayan artist Carlos A. Perez Franco was born in Montevideo, Uruguay on December 28, 1929. He passed away in his hometown on February 18th, 2015 of natural causes at the age of 85. An accomplished architect, professor, design consultant and abstract-figurative artist, Perez Franco exhibited his artwork in acclaimed exhibits throughout the Americas since the sixties. His works are found in some of the most important collections and museums for Latin American and Spanish modern art, often alongside the very masters and luminaries like Picasso, Torres-Garcia and Barradas who fueled his passion. Perez Franco shared unique visual stories through his paintings, drawings and writing, many of which were created in his favored seaside studio where he continued to love life and paint until his final day.
Professional Academic Activities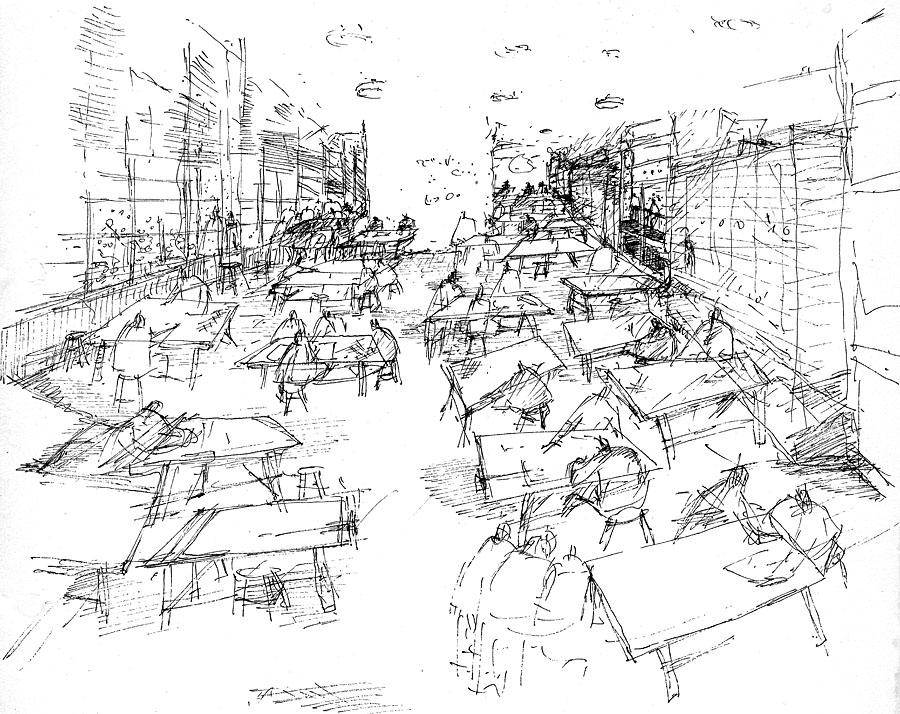 La Facultad, Drawing 19671960-1967 Professor of Architectural Design, URU, Montevideo 1967-1970 Professor of Graphic Expression, Faculty of Architecture, University of Zulia, Maracaibo, Venezuela (LUZ) 1967-1986 Professor of Architectural Design, LUZ 1978-1980 Head of Department of Architectural Design, LUZ 1980-1990 Head of TALA, Professors of Architectural Design, LUZ 1989 Received LUZ Order of Merit.
Selected Individual Exhibitions
2016 Alt Sur Gallery, La Barra, UY 2015 Artfronts La Barra, UY 1997 Gallery Center, "Figurative Architectural Abstracts," Boca Raton, FL 1994 Gallery Center, "Life's Journeys to New Horizons," Boca Raton, FL ; Galeria 700, "Retrospective, 1980-89 Works on Paper and Canvas," Maracaibo, Venezuela 1993 Embassy Gallery, "The Uruguay Series," Coral Gables, Florida ; Jadite Galleries, "Recent Works," New York. 1992/93 Embassy Gallery, "New Works" and "Image and Presence," Coral Gables, FL 1986 Patrica Judith Gallery, "Dialogue of Space and Image," Boca Raton, FL 1981 Venezuelan-American Cultural Center (CEVAZ) ; Club Nautico, Maracaibo 1980 Lago Maracaibo Club, Maracaibo 1970 Galeria Logos, Maracaibo.
Selected Collective Exhibitions, Museums and Auctions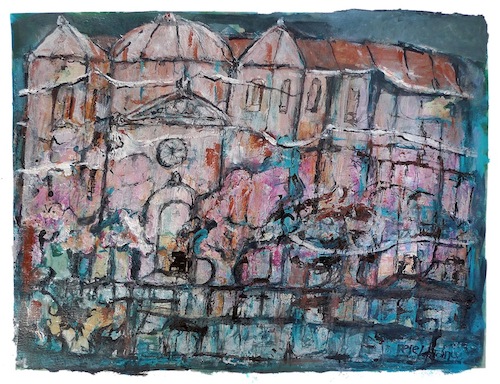 "Rose Row" 2013, Mixed Media2015 CPF Estate at Casa Acropolis, Montoya UY 2011 Artfronts @ Villa Biarritz 2007 "The Figure, Three Sensibilities" Gallery RoCa - Havre de Grace, MD; 2006 Bucks Gallery of Fine Art, Newton PA 2003 Bienal Museum of Florence, Italy; Latin American Invitational 2001 DCG Cincinnati, OH 2001 J.Richards Gallery, Englewood, NJ 1999 Sevilla Espacio de Arte, Buenos Aires, Argentina ; J. Richards Galleries, Charlotte, NC and Englewood, NJ 1998 "Contemporary Uruguayan Painters" Salon del Cabildo de Montevideo ; Galeria Calle Entera, Montevideo ; Galeria VYP, Buenos Aires 1996 Galeria Manzione, Punta del Este 1995-98 Gallery Center, "The Nude" and "The Still Life," Boca Raton. 1995 Hemisphere Gallery, Scottsdale, AZ ; Galeria 700, Maracaibo-Permanent Collection 1994 ART MIAMI 94 International Art Exposition, Miami Beach, FL 1994 Museum of Fine Arts (Centro de Bellas Artes), "Symbiosis between Architects and Painters," Maracaibo ; Gallery Center, "Figurative Works," Boca Raton, FL ; Museum of Contemporary Fine Art, Maracaibo 1993 Galeria 700, Maracaibo ; Bijoux WIZO International Art Salon, Caracas ; Embassy Gallery, "Latin America Invitational," Coral Gables,FL 1992 Bijoux International Art Salon, Caracas ; Embassy Gallery, "Image and Presence 1992" Coral Gables, FL ; Auction - San Rafael Home for Children Annual, Maracaibo ; Galeria 700, Maracaibo 1984-1988 Patricia Judith Gallery Permanent Collection, Boca Raton, FL 1982 Auction - Venezuelan- American Cultural Center, Maracaibo ; Museum of Fine Arts, Maracaibo 1981 Auction - Governor of Zulia's 2nd Annual Grand Exhibiton 1980 Centro de Bellas Artes, Maracaibo.
Consulting and Judging
1990 Museum of Contemporary Art of Zulia - Design Consultant for New Building Project, Maracaibo 1989 Design Consultant. Dept of Physical Planning - LUZ.
Samples from three of Uruguayan artist Carlos Perez Franco's Portrait Series, 1990-2014

Collections
Works by Perez Franco have formed part of important private and corporate collections worldwide for decades, including: Citibank, Union Bank, HR Block, Bassett, John Henry, Benzel-Busch Mercedes, the Agresti Collection, the Abbo family collection, Banco Popular, University of Zulia, American Cultural Center of Zulia, Casa Paris etc. Included in his museum exhibits and placements are Museo Ralli, Intendencia de Montevideo, Museum of Florence, Italy, Centro de Bellas Artes Maracaibo, museums in Haifa, TelAviv and Boca Raton, MOCA Latin America in California, Museum of Contemporary Art in Zulia.
Available Works
Carlos Perez Franco's estate is managed by his daughter, Isabel Perez Etchavarria and family. They also serve as the most authoritative source regarding matters of authenticity, historical reference and, in some cases of contested ownership, provenance verification. For more information, please communicate through the Contact form on this site.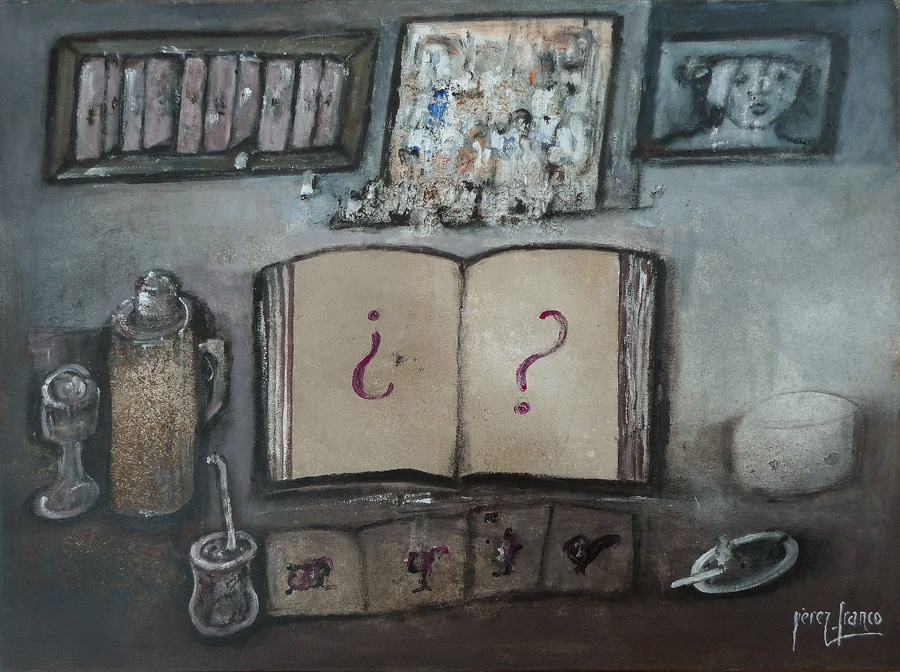 "Still Questions" Penultimate painting by Carlos Pérez Franco, 80x60cm Acr/Canvas 2015