Sketches: The Roots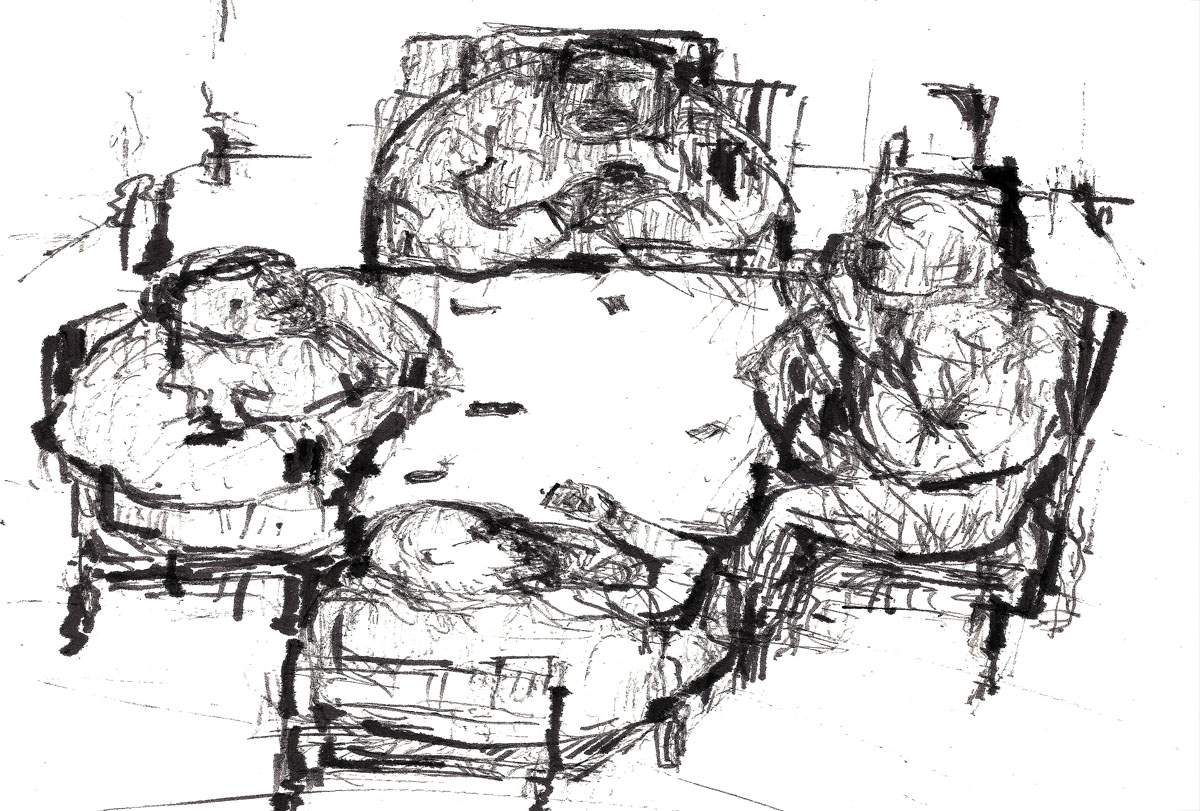 Sketch for "The Card Players"Architect Carlos Pérez Franco's first professional drawings were socio-political caricatures commissioned by a newspaper in his hometown of Montevideo, Uruguay. His exploration of the visual arts was further inspired after many nights observing original members of the Tórres-Garcia Southern School at work in their downtown studio. During subsequent university studies, Carlos honed his drawing and painting skills until a triple career path in the visual arts, architectural design and academia became inevitable.
While Pérez Franco is best known for painting abstracted figures and compelling compositions featuring distorted planes and alternative viewpoints, his skills shined first and foremost through fluid sketches where his signature aesthetic concepts of dual purpose were first explored. Drawing remained a daily staple throughout the artist's life. To understand and appreciate Carlos' entire oeurve, viewers must start with his drawings.
The contemporary art field is known for creating elaborate names for emerging tangents. One popular trend is expressed as "Neo-Figurative Post-Abstraction," a description for raw drawings and paintings that upon first viewing appear to parallel the de-skilling movement. The collector who coined the phrase, Neils Kantor, actually suggests the opposite: NFPA is a turn away from de-skilling back to technical expertise and physical craft, a preference for work that is neither process-only, contrived formal abstraction nor strictly conceptual. Being thoughtfully considered and physically worked, the art succeeds through underlying aesthetic qualities beyond its simplistic strokes. Kantor capsulizes collector appeal for neo-figurative, post-abstraction art as work "driven by the hand of the artist."
We couldn't agree more, especially since Pérez Franco explored similar liberal & gestural artforms as early as the 50s and continued to incorporate them unabated for over 60 years. Taken in the context of recent trends, it's safe to say that Pérez Franco's drawings were decades ahead of their time alongside a fair number of mid-century experimental artists doing similar work, many of whom remain influential to this day. The only element missing during their period was the fancy moniker.
Pérez Franco first experimented with free-form figurative abstraction during his first world tour upon graduation as a professional architect. Time was tight while bouncing between nations on rented buses. The artist sketched furiously to record every sight and cultural clue. These fast and free studies over a year long tour sparked the emergence of a style based on suggestion and inference rather than realism. Even though he could draw realistic portraits in his sleep, Pérez Franco preferred to use his stripped down process for focus and clarity rather than fill pictorial space with superfluous clutter. For decades, Pérez Franco employed this uncanny ability to record substantial detail - both visible and implied - with minimal strokes, not unlike later bodies of work by artists such as Picasso, Matisse and Tamayo who searching similarly for focus, purity and integrity.
Some of Carlos' early drawings were completed without removing the pen from the paper, in part so he wouldn't have to take his eye off the passing scenes but also to add depth and breadth to even the simplest compositions.
Equally important for a full understanding of Pérez Franco's artwork is the influence of a parallel career as a professor of architectural design. Clues to his academic background are readily apparent throughout his art: Intricate compositions include masterful control of positive and negative space. Every line — as random as some appear — has a purpose. In Carlos' case, often two or more purposes! Dislodged vantage points free viewers to explore almost as if they're riding outside their bodies. Coherent forms and objects are scaled expertly, as one might expect from an architect. Nowhere are these aesthetic considerations and manipulation of picture planes more evident than in the initial sketches and more elaborate drawings.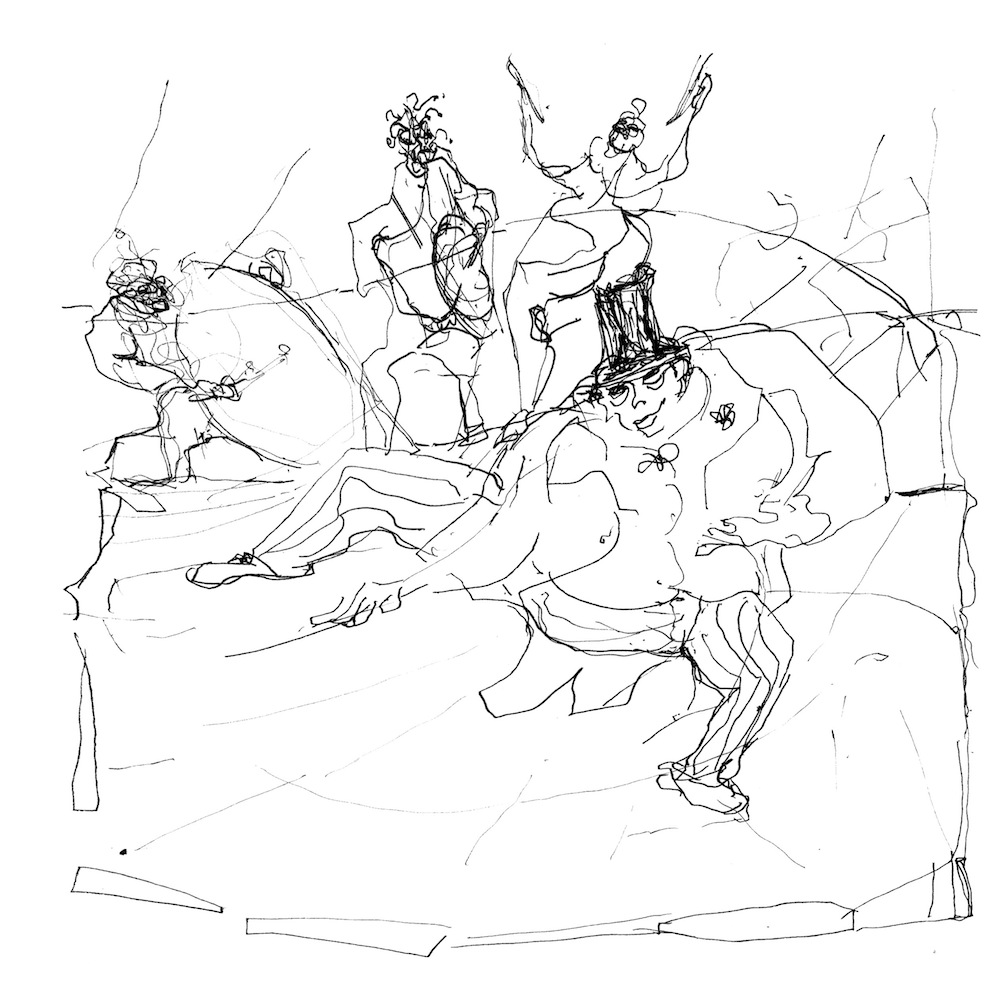 Sketch for "Homenaje al Momo"Carlos always felt that the attractiveness of a building was fundamental but that the quality of human interaction with the structure and its created space was equally important. He often explored this duality using people and objects simultaneously as structure, as subject content and as compositional elements. In so doing, Pérez Franco demonstrated one of his key concepts: Humans in communities are like buildings in cities. Both can be positive and functional, all the more so through collaboration, support and respect.
While embarking on the creation of a thorough catalogue of the remaining work in the Pérez Franco estate, we encountered hundreds of sketches, some meant for sale, others for plotting a pictorial chronology of the artist's career. It's interesting to pair some of these original sketches with the paintings produced from these studies as we've done below.
More to follow as we continue to unravel the treasure we proudly present...
CPF Estate
Hover over the images below to view the paintings produced from previous sketches.